National Digital Giving Roll-Out (2023)
In conjunction with the Church of England National Digital Giving Roll-Out, Bath and Wells diocese are making 88 contactless devices available for our churches in November this year at significantly discounted rates (and in some cases for free).
Applications for the roll-out are now closed.
Churches who are selected to receive these devices will be notified by 15 August and our Diocesan Giving team will support each recipient church with all aspects of the setup required to operate their device. Churches will collect their device and receive in-person training in their use during November. Venues for collecting devices are Wells and Wembdon (nr Bridgwater).
Devices available
CollecTin More - £90

This versatile device can be used across a variety of settings. It features a 6-inch touch screen with integrated card reader and is easily portable to move between locations. It comes with a rechargeable battery meaning it can be used in locations where power may not be available. A secure mount is also available (not included in the roll-out) so the device can be secured to a wall or counter and can be left unattended (with a continuous power supply). The device uses the Give a Little App and SumUp to display multiple donation options and process payments. No monthly contract fee. Transaction fees of between 1.1%-1.3%.
Current Parish Buying price - £295.
Payaz Giving Station Mk3 - £90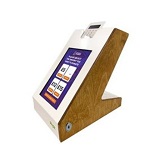 This is a non-portable device featuring a larger 10-inch touch screen and integrated card reader. The whole unit is contained in a lockable powder-coated steel case with wooden sides. The device can be secured to a counter and/or held by a security cable (provided). It is suited for use where it can be permanently secured with continuous power, making it ideal for churches with regular visitor footfall during the week while unattended.
Current Parish Buying price - £393.
'Give a Little' App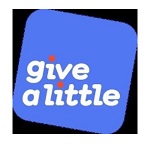 Both CollecTin and Payaz devices use the 'Give a Little' App to provide the user experience and SumUp to process payments. No monthly contract fee applies. A transaction fee is charged at 1.1% (debit card) or 1.3% (credit card). The 'Give a Little' App offers a great range of customisation to ensure that campaigns are visually appealing and are targeted at the right levels for the variety of different events taking place in your church. The same 'Give a Little' account also allows churches to create any number of online giving campaigns to allow donations to be collected from givers when they are away from your church building.
GWD Midi & Skinny Donation Stations - £100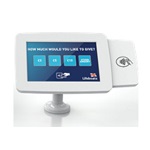 The GWD Midi (left) is a counter-top donation device that can both be secured and made portable with an optional hand strap. This device usually costs around £800 when purchased through Parish Buying.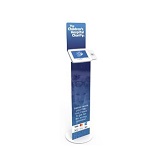 The GWD Skinny (right) uses the same countertop device as the GWD Midi mounted on a floor stand making it more portable and easy to move to different locations within your church. The device includes a top and front panel to increase visibility. The large front panel can be customised with your own church branding for free as part of this project. This device usually costs over £1,000 when purchased through Parish Buying.
Best suited to locations with strong footfall, both units offer an integrated touchscreen and card reader and use GWD proprietary software to display multiple donation options and process payment. Both devices can operate offline so are perfect for churches with no internet connectivity.
In addition to the cost of the device these devices require a monthly service contract of £13.50 + VAT per month and a transaction fee of 1.99% + 5p is charged.
Internet connectivity for contactless devices
The contactless devices above require a live internet connection to process transactions though the GWD devices are currently being updated to be able to operate where there is no signal available. The internet connection can be made via an existing wi-fi connection in your church or, if this is not present, a mobile phone signal and data sim card can be used. Many churches mistakenly believe that they do not have a mobile phone signal in their building because they may not be able to access the main network providers. The best way to check this is to contact the Giving Team who are able to carry out a mobile signal survey in your church using a multi-network device.
If a signal is present, a data sim card will need to be purchased. These are available from Payaz (via Parish Buying) at a cost of £50.40 per year (inc VAT). The card provides 500Mb of data per month which is perfectly sufficient for processing transactions as minimal data is used.
The sim card can be inserted directly into the CollecTin More and Payaz Giving Station devices, provided the signal is available at the location where you wish to site the device. If a signal is present but is elsewhere in the building, a mobile wi-fi router will be needed. These usually cost between £40-£90. The Giving Team are available to advise as to which method and device would be needed.
Who to contact
For more information, please contact one of our giving advisers.
Gary Watson, Lead Giving and Funding Adviser (Wells Archdeaconry)
Kate Mayo, Local Giving Adviser (Bath Archdeaconry)
Natalie Wainwright, Local Giving Adviser (Taunton Archdeaconry)